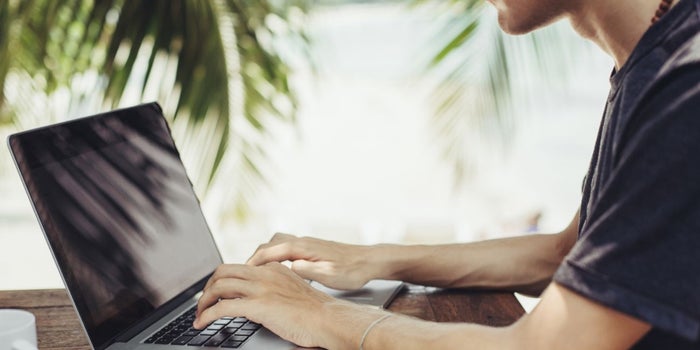 Everyone loves traveling —that's a fact— and working while traveling can be a powerful learning curve that can boost your career and help you grow personally. This "wake up when you want, work from a fancy cafe or from a cute forest cabin, make money to keep traveling and doing what you love" sounds ideal, right? If you're thinking about becoming a freelance nomad translator or if you are already one, here are some tips that will keep you going and make your life easier.
1. Choose the right countries where you would like to go
Maybe your dream country is not the best one to start if your income is not that high just yet. Look for cheaper countries whose culture might interest you —and even better if they speak any of the languages you are learning. For example, Southeast Asia is one of the most popular destinations thanks to its sunny weather, amazing food and up-and-coming cities where you can find stunning cafes for half the price!
Here you can find a lot of useful information for each country, they even feature some lists and rankings!
2. Plan ahead
While moving from place to place, if you are flexible on dates, times, airlines and number of stops you will be able to snatch the best deals. Try to book in advance —it is often much cheaper, especially in Europe— and it will be easier to look for the perfect accommodation, as there will be more available hostels and apartments that meet your criteria.
If you plan ahead, you will have more time to do your research. If flying from point A to point B is expensive, maybe it is worth to take a small bus trip to point C and then fly to point B (plus: you get to visit point C too!). Generally, weekend flights and holiday periods are more expensive and "red-eye" flights (those that take off very early in the morning) are statistically the cheapest.
3. Create your perfect on-the-go workstation
You have to keep in mind that to travel as much as you can quickly and easily, you will need to keep your luggage light – you will probably pass through a lot of security checks and border controls. Invest in a light yet powerful laptop with a nice sized screen. A mouse can come in handy sometimes, but I strongly recommend that you purchase an adjustable laptop stand, an ergonomic keyboard and a long charging cable so that you can work comfortably wherever you are.
Some gadgets can save you in some situations too. Portable batteries and USB sticks are pretty obvious ones but remember to check plug transformers before getting to your next destination.
4. A good co-working space can change your experience
Too much time going back and forth can destroy your schedules and routines or complicate your workflow. That is why it is a good idea to look for a modern co-working space that allows you to have everything you need to concentrate on your tasks: a speedy and stable Internet connection, office desks, other freelancers to chat with, coffee and tea... Many of them can be rented by the day or even by the hour, which is great because maybe with just a few hours you can get your work done and enjoy the rest of the day visiting the city where you are staying.
If you have a Skype meeting or an important conference call, you will be able to have a room all for yourself – this is not the case if you are working from a cafe or a hostel: the absence of noise and a good background can definitely make a difference! After all, it is important to keep your clients happy if you want to continue your freelancer life.
In addition, many co-working spaces offer courses and activities that will allow you to meet people, create new contacts and grow your network.
5. Make the most out of your flexible schedule
One of the good things of freelancing is that you are free to work during the hours that are most productive for you. You don't have to be sitting long working hours, you just have to be efficient. However, very often people struggle with being productive when they can decide their own schedule.
Find the hours during which you work best. If you are an early bird, schedule your most critical tasks for the morning; if you're a night owl, reserve some working hours each evening to tackle the most demanding translations. Listen to your own body and work when your body is awake and motivated.
Don't burn out by working all day long during work peaks. A good trick is the Pomodoro method, which divides work into intervals of 25 minutes with short breaks in between and helps you maintain your energy levels and prevents you from becoming frustrated.
Stick to your schedule. A good way to be organized is to sit down once a week and schedule all the tasks for the upcoming week in a calendar so that you don't forget anything and you can easily take on new jobs as they come by allocating them in the free slots.
6. Don't forget to buy a SIM card
Before leaving the airport, take a look to the phone shops. They usually have good deals for SIM cards that will allow you not to miss any incoming project or get in touch with your PM in case it is needed! In some countries, you will get unlimited data and some international call minutes for $15 or less (also, there are groups on Facebook for expats and nomads living in different places, where you can find valuable advice).
7. Tools for freelancers
There are a lot of different programs and apps –free and paid– to keep your business under control. Here some of my basics:
Any calendar app: having an overview of your scheduled flights and trips will help you organize your working hours and meetings and not miss any delivery!

CAT tools: In my opinion, these are a must for freelance translators, and everyone should consider investing in one. These tools are specifically designed to boost productivity and the quality of your work.

VPN: It is worth considering getting a subscription to a good VPN to ensure a secure network when you work outside. Other benefits to using a VPN: you can hide your IP address and location, encrypt your communications and stream online faster.
8. Invest in a good backpack or carry-on suitcase
All of us have a backpack that someone gifted us at some point or one that we bought for everyday use, but odds are that those are not good enough to transport all your valuable and heavy stuff.
The luggage of the traveling freelancer should carry the essentials for life on the road, as well as the tools to do your job. Choose a highly functional and durable backpack and prioritize weather resistance, as you'll probably find yourself stuck on a tuk-tuk in the rain at some point.
Alternatively, use a carry-on size suitcase that you'll be able to wheel around!
It is also worth buying a good theft-proof daypack –with zippers on the back– that will protect your belongings from pickpockets too.
Safe travels!
Further reading: